I'm looking to buy farmland and this home mortgage calculator isn't cutting it
We're pleased to announce the launch of Finding Farmland, an "affordability calculator" we built with the National Young Farmers Coalition. Since access to farmland is one of the biggest hurdles for beginning farmers, the goal of the calculator is to help farmers understand the available financing options and enable them to create land purchasing scenarios.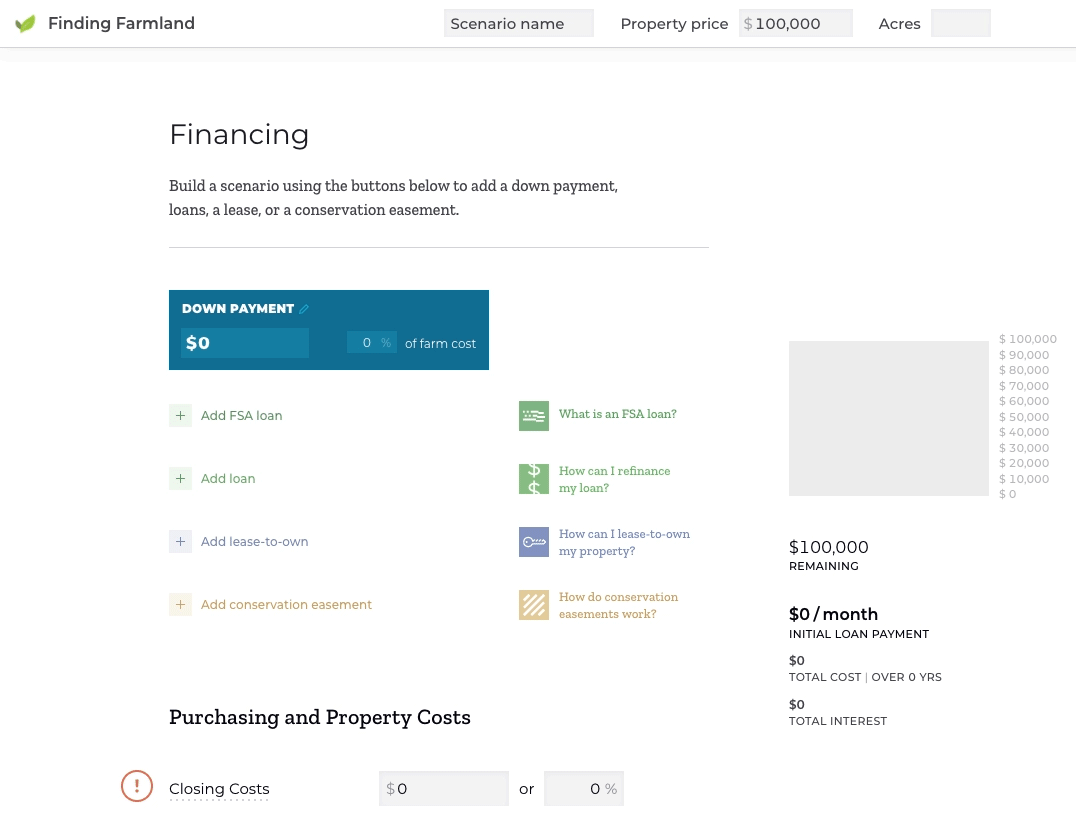 NYFC was looking for a partner that could build the tool from the ground up, one that went beyond a typical home mortgage calculator and took on the complexity of farmland purchases. Over the past few years, we worked with NYFC in three 8-week phases: a prototype, a beta test, and now, the final release.
Throughout the process, we collected feedback from both beginning and experienced farmers to design and build a platform that intuitively breaks down the process of buying land. In our initial research, we examined tools we knew farmers were already using. For instance, home mortgage calculators found online were popular starting points, but fell far short of creating a picture of affordability for prospective owners. You can read more about our process and the earlier phases here.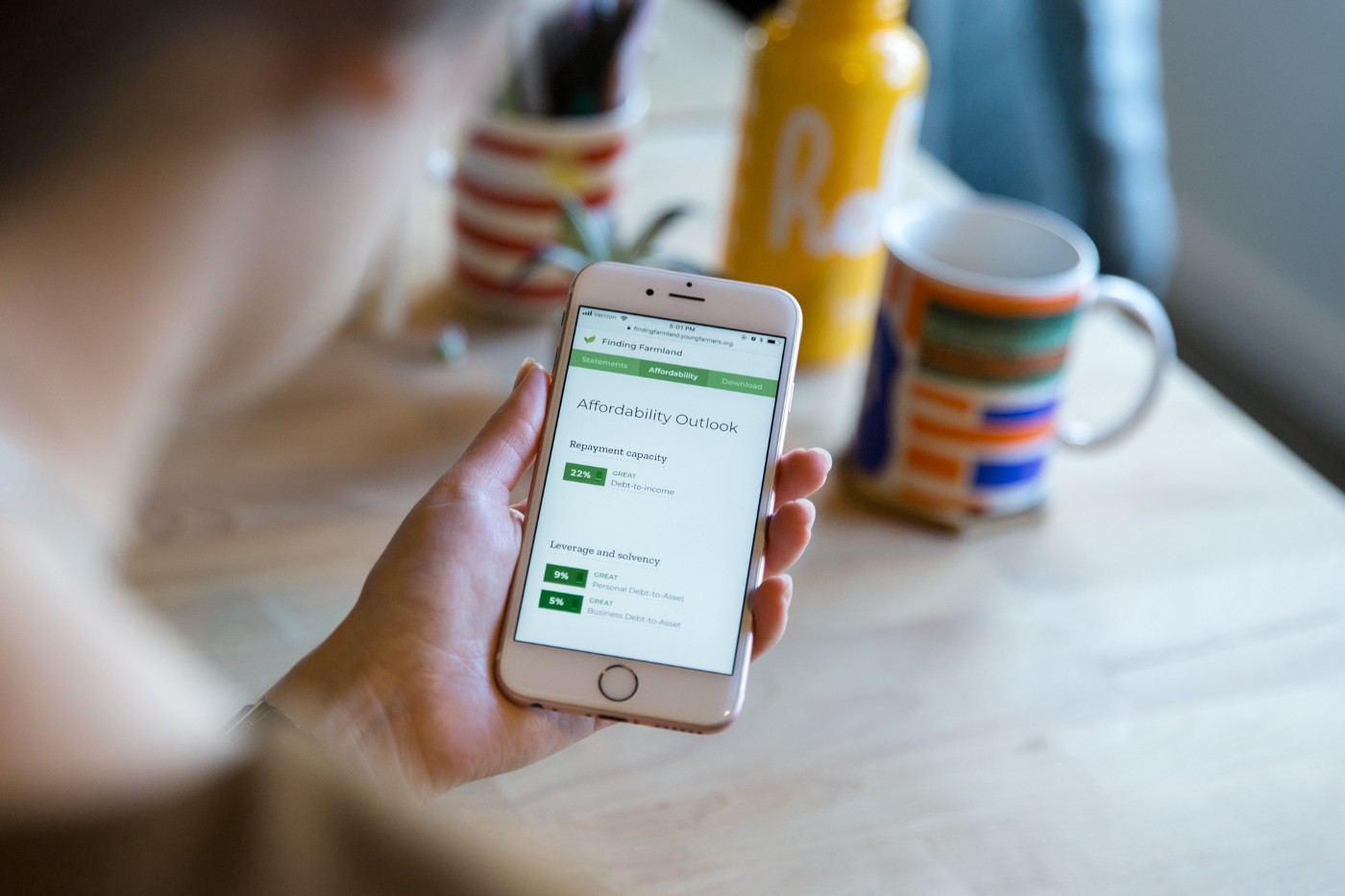 The new release of Finding Farmland makes a variety of financing scenarios understandable and provides detailed cost breakdowns that equip farmers to meet with loan officers.
The first two phases covered a range of financing options that were most common, but feedback told us that even more alternatives should be added. With that in mind, we also prioritized the ease of constructing and comparing scenarios so that the additional options were helpful rather than overwhelming. Taken together, the new tool helps farmers consider lease-to-own contracts and Farm Service Agency loans, with the ability to refinance loans or integrate conservation easements.
With the renewed focus on affordability, the tool now has sections where farmers can incorporate numbers from their balance sheets, track the property's equity over time, and compare the cost of leasing versus buying the land.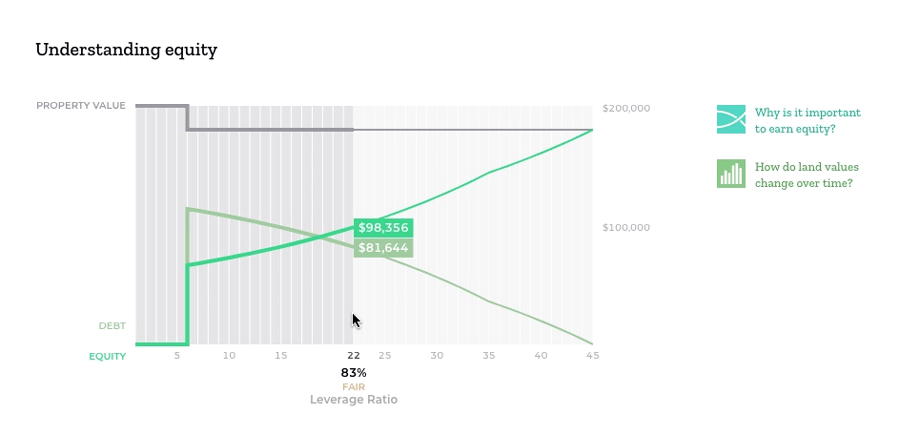 Tailored to an audience of beginning farmers, the calculator aids users with embedded definitions, strategies, and resources. Alerts and suggestions guide them through the calculator, providing solutions if they enter conflicting inputs.
When finished, farmers can download a PDF of the cost breakdowns and affordability metrics to reference when business planning or consulting with loan officers. Designed with printing in mind, this single page document includes all the details of the scenarios constructed with the online tool.
All told, the affordability calculator provides a streamlined desktop and mobile interface that helps farmers untangle the calculations associated with financing farmland. We're excited about the launch of the new tool and look forward to hearing the next round of feedback from current and aspiring farm owners.