Exactly 69 years ago today, on April 24, 1945, a young trumpet player named Miles Dewey Davis got the chance of a lifetime. He had recently left his native East St. Louis for New York City, and at only seventeen years old, he was playing alongside the legendary Charlie Parker. On this day, he was heading into the recording studio for the first time. Perhaps he wasn't quite up to the task: in his first recordings, Miles' playing comes across as tentative, especially when compared to Parker's confident saxophone. But Miles soon found his voice, and over the next forty five years, his vision pushed him into uncharted territory and repeatedly redefined the scope of jazz.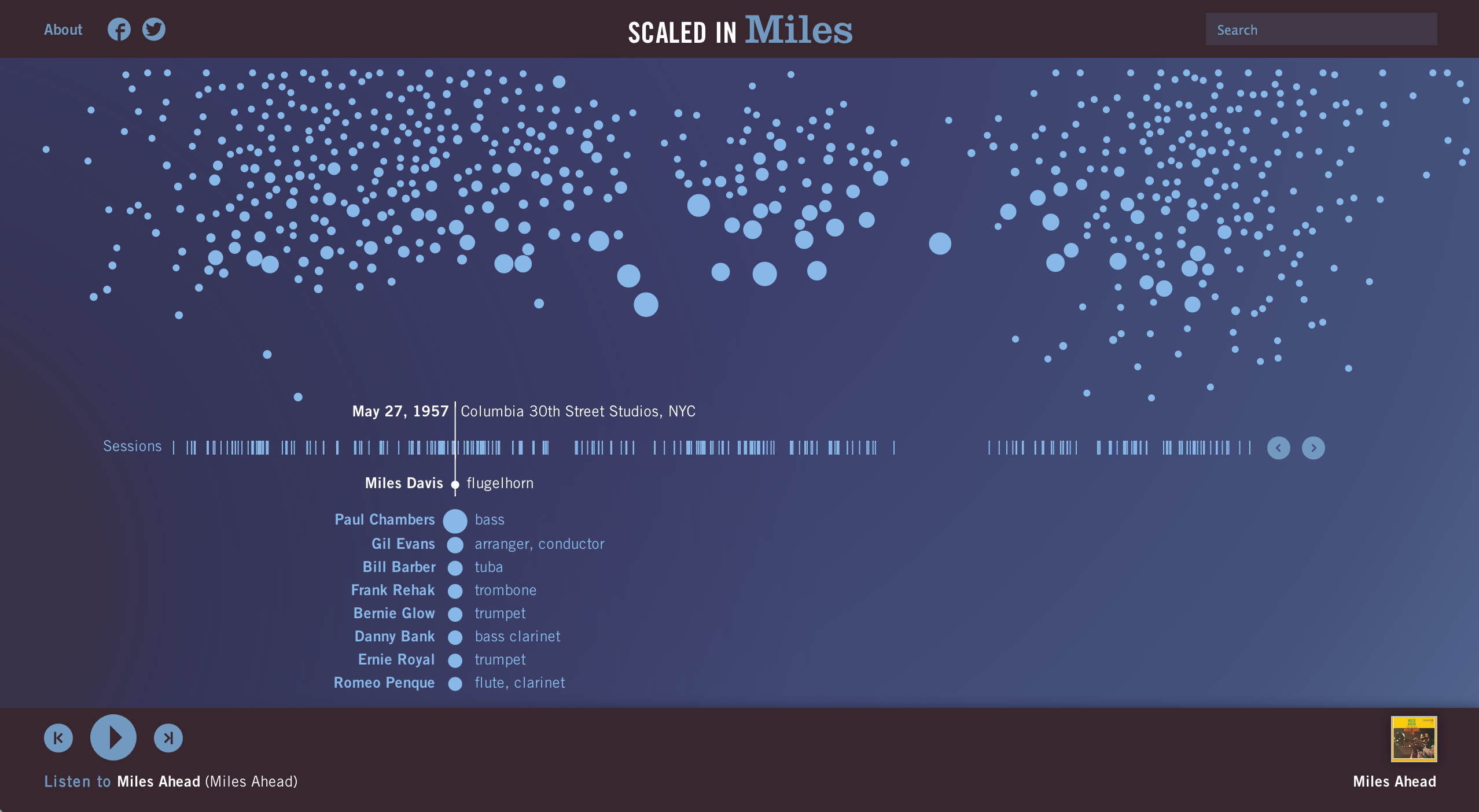 But Miles Davis didn't do it alone. At every step of his career he surrounded himself with wonderfully talented musicians who were innovators in their own right. Gil Evans' arrangements helped drive the birth of cool jazz and supported Miles' orchestral explorations of the late 1950s. John Coltrane recorded his groundbreaking album Giant Steps only a few weeks after performing on Miles' Kind of Blue, the best selling jazz album of all time. And in the 1960s and 70s, Miles was backed by players who would become the vanguard of '70s jazz-rock fusion, including Herbie Hancock, Wayne Shorter, Chick Corea, and John McLaughlin.
In fact, there are too many talented musicians to name, so we put together Scaled in Miles, an interactive look at Miles Davis' career and collaborations. Using the history of his recording sessions as documented by the Jazz Discography Project, we show every session that led to a recording, and if that recording is available on iTunes, you can listen to a sample. By scrubbing and clicking over the timeline of recording sessions, you can see who performed with Miles on each date. You can also find specific artists and highlight their sessions by clicking on the circles, or by entering different names in the search box. Larger circles indicate artists who had more sessions with Miles.