One big happy (TV) family
Being home for Thanksgiving always gives me a huge sense of nostalgia. My family inevitably winds up rehashing the past, including many entertaining stories of my childhood growing up in the '80s. One story that came up again this year was about me being sick with mono in the third grade. I was home from school for over three months, though I don't really remember being all that sick during that time. I actually remember it as one of the best times of my life. I got to stay home from school, lie on our tweed-upholstered barcalounger, and watch soap operas and TV reruns all day. Although I probably missed some critical developmental education, I think it was a worthwhile trade-off for my extensive mental database of useless TV trivia and '80s pop culture knowledge.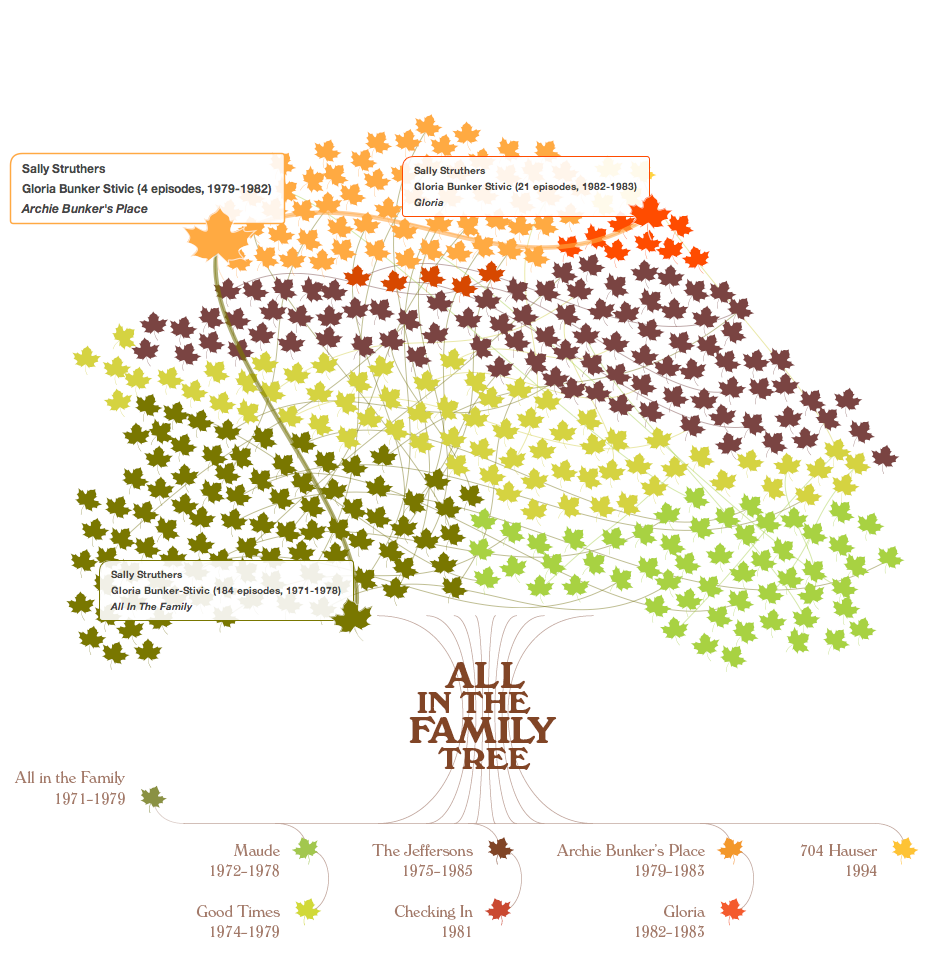 Two shows in particular stand out from that time, Good Times and All in the Family. I had no idea that these two shows had anything in common. I came to find out that Good Times was a spin-off of Maude, which was a spin-off of All in the Family. For those unfamiliar with the term, in television, a spin-off is a new series that contains either characters or theme elements from a previous series.

All in the Family was the origin of seven spin-off shows that aired between the early '70s and the mid-'90s: Maude, Good Times, The Jeffersons, Checking In, Archie Bunker's Place, Gloria, and 704 Hauser.
In tribute to nostalgia, the end of fall and its beautiful colors, and my fascination with retro TV shows, I've created All in the Family Tree, an interactive visualization of all the characters from each of the eight shows listed above. Each character is represented by a leaf and each show is indicated by a separate color. A branch line connects a character's crossover from original show to spin-off and vice versa.
All in the Family is the grand-daddy of TV spin-offs, many have copied this formula but none have been quite as successfully.
As Jimmie Walker aka J.J. Evans would say, All in the Family Tree is Dy-no-mite!!!!
Data pulled from imdb.