Frankenfont at the Walker Art Center
Graphic Design: Now in Production
opened this weekend at the
Walker Art Center
in Minneapolis. The exhibition captures the expanding role of the graphic designer. Ben's pieces
Frankenfont
and
The Preservation of Favoured Traces
are on display and we really want to go see it all. Check how fun it looks
setting up
.
Spread from Frankenstein, or the modern Prometheus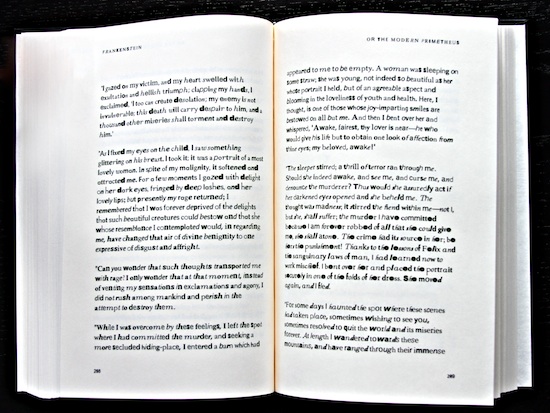 Preservation of Favoured Traces via @taulpaul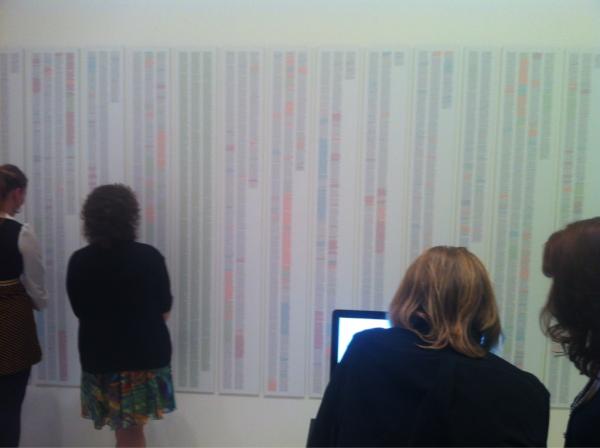 The pieces in the exhibition draws from traditional graphic design outlets such as books, magazines, and corporate branding. But the curatorial team also specify their selections as representing " a series of developments over the past decade, such as the entrepreneurial nature of designer-produced goods; the renaissance in digital typeface design; the storytelling potential of titling sequences for film and television; and the transformation of raw data into compelling information narratives."
Or, in a context provided by Alice Rawsthorne in the New York Times:
The sub-text of the show is that digital technology has both democratized the design process and empowered designers by giving them powerful new tools. "Designers have responded by becoming more expressive and experimental," said Andrew Blauvelt, curator of architecture and design at the Walker, who organized the show with Ellen Lupton, curator of contemporary design at the Cooper-Hewitt. "Their work is more conceptual and analytical: a quest for autonomy and alternative modes of practice. We now have the designer-as-author, as entrepreneur, as editor, as producer, as publisher and as curator."
continuing:
Graphic design is the largest area of the design industry, employing more than 250,000 people in the United States alone. Yet "Now in Production" is the first major U.S. museum survey of the discipline since 1996 when the Cooper-Hewitt presented "Mixed Messages: Graphic Design in Contemporary Culture," which also was curated by Ms. Lupton.
Graphic Design: Now in Production is up until January 22 at the Target and Friedman Galleries of the Walker Art Center and will be presented by Cooper-Hewitt at Building 110 on Governors Island from June 2, 2012, through Sept. 30, 2012.