Ben on Slate's "Top Right" list
A few weeks ago, Slate launched
"Top Right"
, a project "to identify the Americans who best share Edison's dual talents for inventiveness and practical thinking."
And when it came to designers...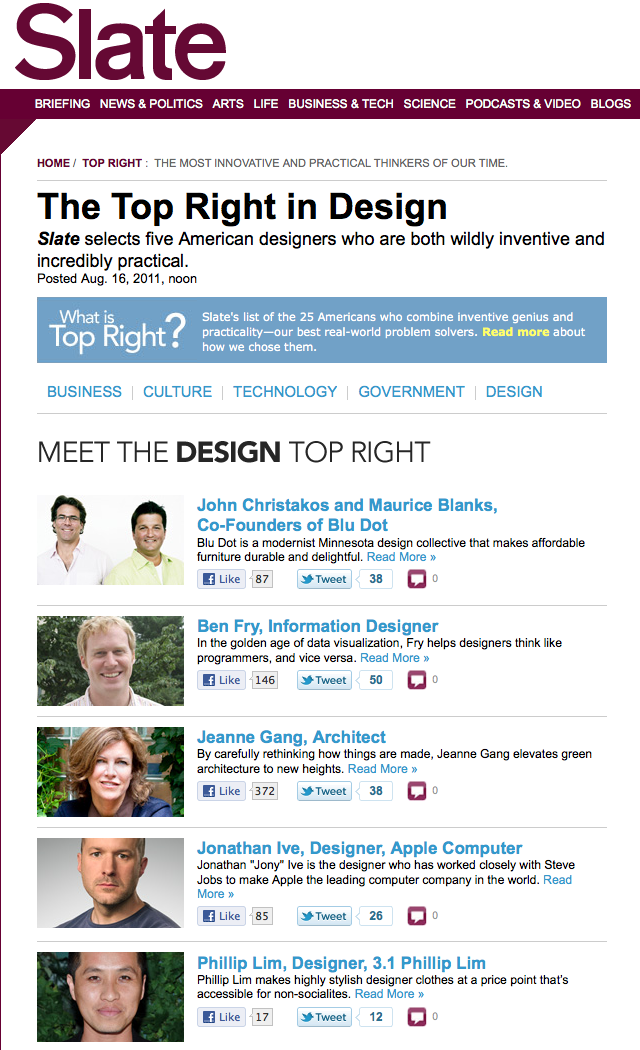 BEN FRY NAMED TO SLATE'S "TOP RIGHT" LIST OF THE MOST INNOVATIVE AND PRACTICAL THINKERS OF OUR TIME
Slate has just named Ben Fry a "Top Right" honoree, Slate's compilation of the 25 Americans who best combine inventive genius and practicality.
Fry was selected for his work in helping designers think like programmers, and vice versa. Here's Slate's piece noting Fry's genius: http://www.slate.com/id/2301425/.
Slate's "Top Right" follows the formula of the quadrant graph and honors those individuals who land in the top right quadrant between inventiveness and practicality – America's best real world problem solvers. You can read more about "Top Right" here: http://www.slate.com/id/2298976/
To agree with Slate and show your support of Fry and his work, use this interactive feature that lets you choose exactly where honorees should land within the Top Right quadrant, in comparison with the four other picks for design geniuses. Here's the widget (scroll down), where you can place them on the graph: http://labs.slate.com/topright/design/