GE Transformation Timeline
We're excited to announce our latest project, an interactive timeline for GE's corporate website showcasing their transformation as a company over the last 100+ years. GE is one of the world's largest companies, and that only feels more true as you look through their history, and see how they have influenced almost every sector of technology and industry. From healthcare to aviation, energy and power to television, GE has touched it all.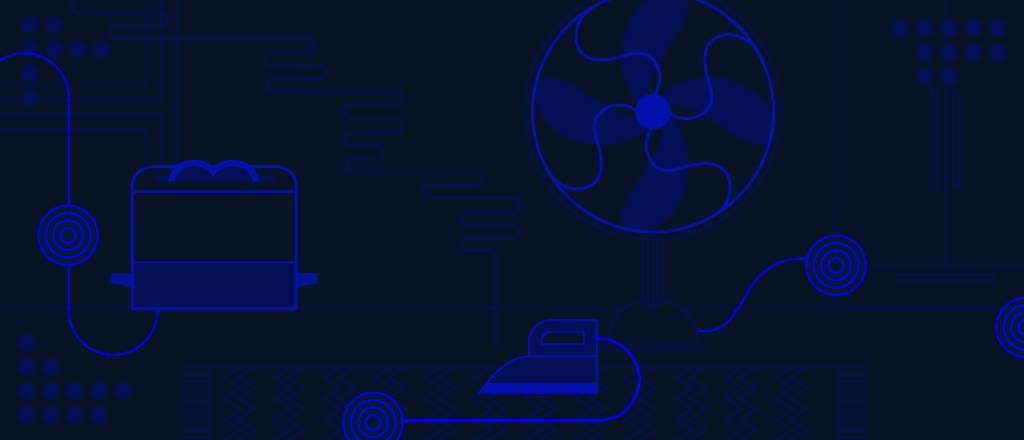 Fathom has done work with GE in the past, but it's been a while! Recently, we teamed up with their team and our friend, Camille of Estuary Branding, to take a fresh look at GE's historical timeline. The previous timeline was out of date in both content and structure. The goals of the new Transformation Timeline were to showcase the people, events and technology that define each of GE's businesses, and demonstrate how GE has changed over time.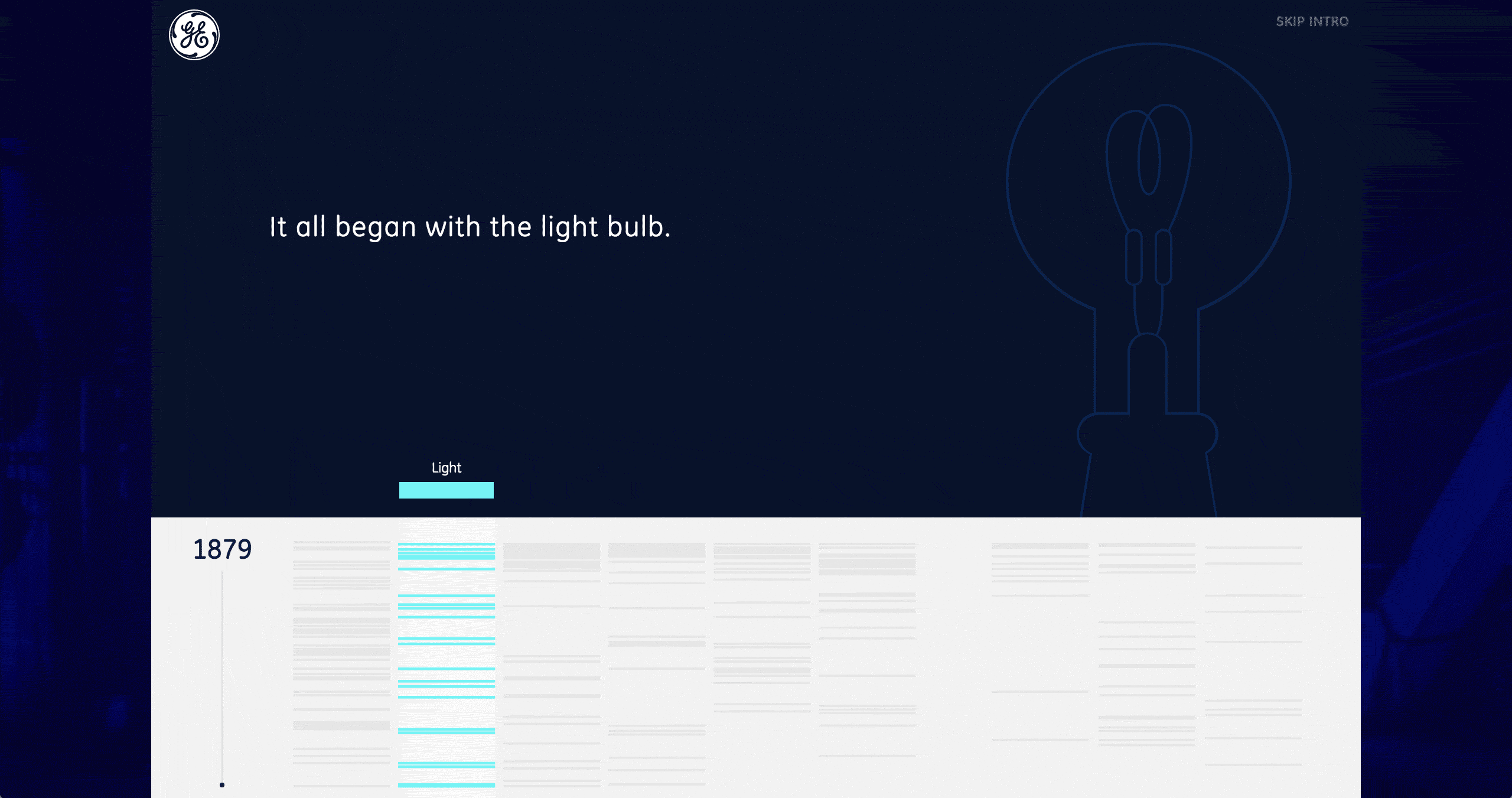 The original timeline was a series of webpages with many image carousels, and it lacked a narrative flow. For our piece, we wanted visitors to get the big picture of GE, while also having the ability to explore individual events. The landing page features an awesome animation by Rachel, which highlights the world-changing technologies GE developed over its 100+ year history. Their innovations started with the lightbulb, and have evolved to the vacuum tube, and all the way to today's wind turbines.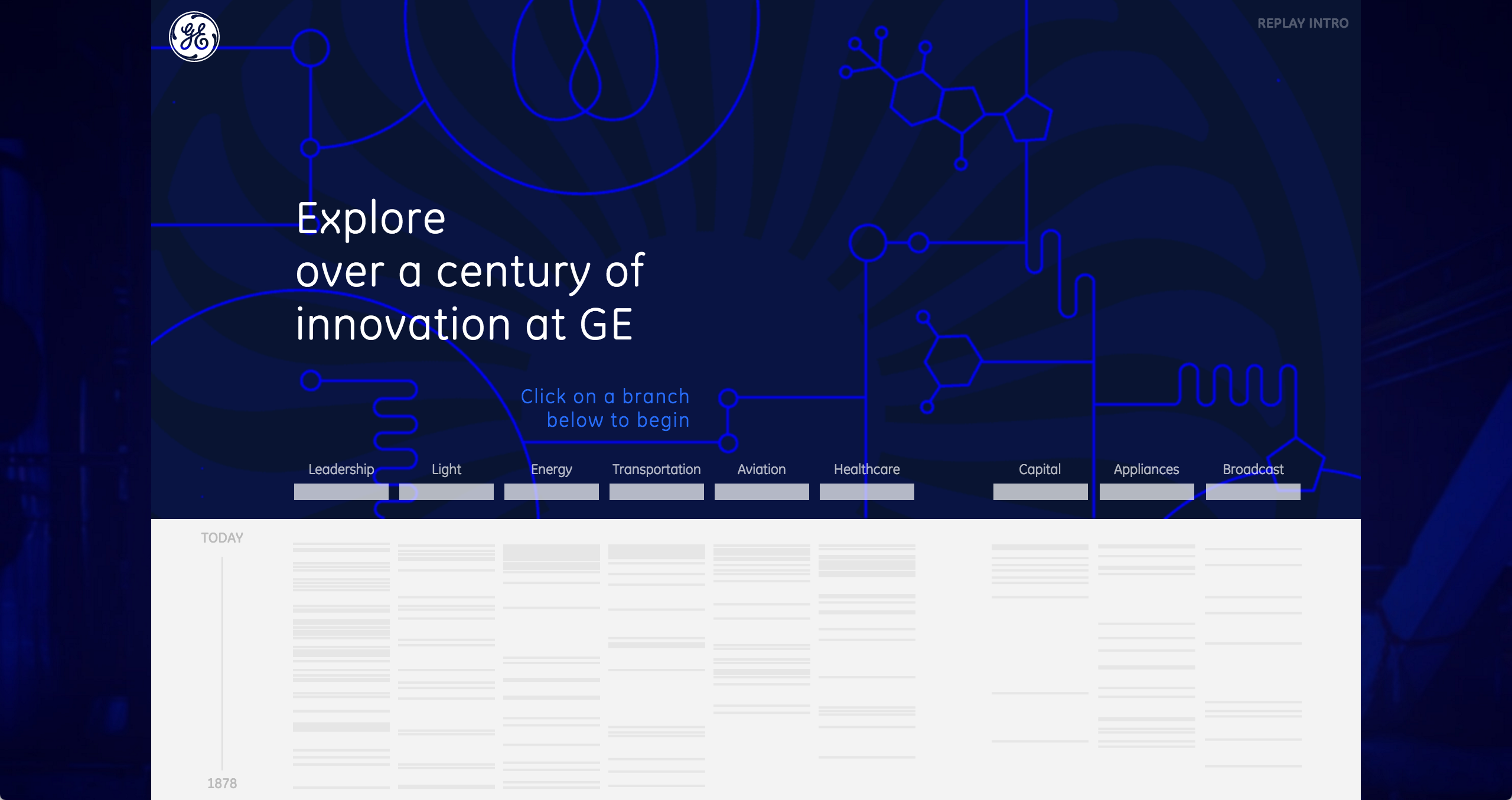 Below the animation there is also an overall view of the timeline. You can see how GE's earlier history spanned mostly across light, energy, and transportation, while some of the later businesses, like aviation, didn't start until almost midway through the company's history.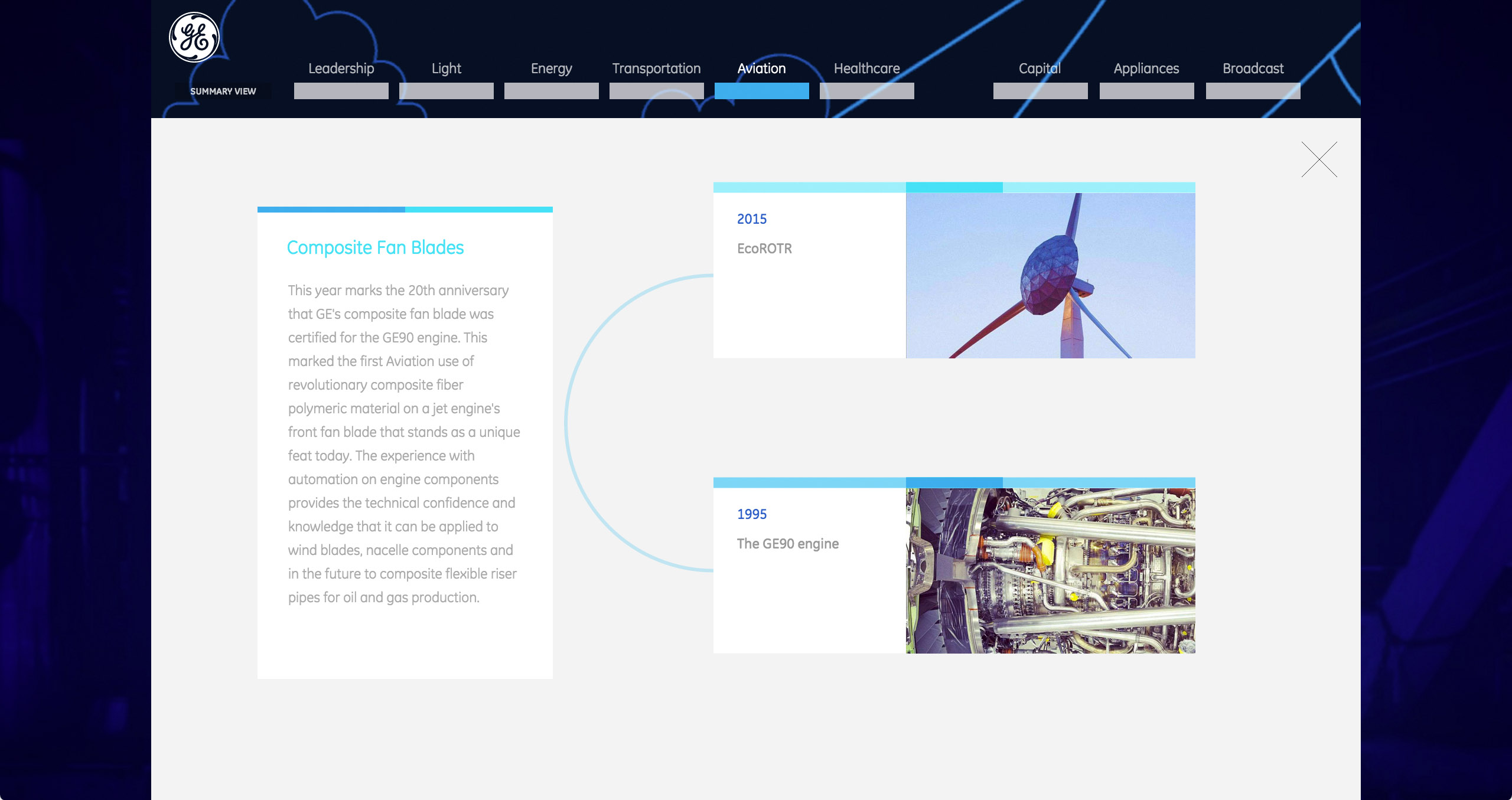 Part of what makes GE such an interesting company is that they have people working across all different technological fields, and those businesses communicate and share technology with each other. We were able to show this in the timeline through technology transfers. Throughout the timeline, there are examples of these technology transfers, and a special view showing how two or more events across businesses are connected.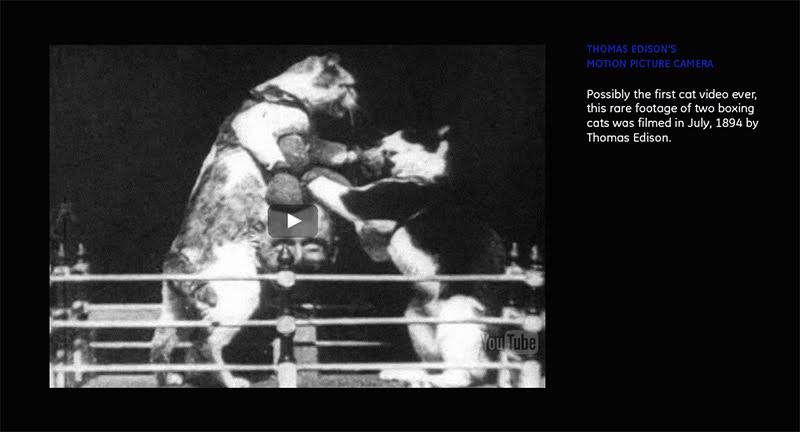 There were also lots of events I didn't know GE was responsible for. For example, Thomas Edison, not only a fellow Cooper Union grad, but also the founder of GE, invented the first motion picture camera. A video on YouTube recently surfaced showing a film of cats that had been recorded with Edison's camera. That's right, GE was responsible for (probably) the first cat video ever.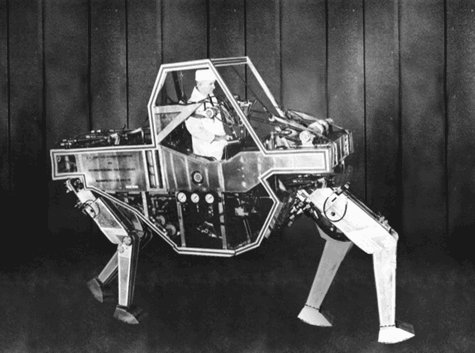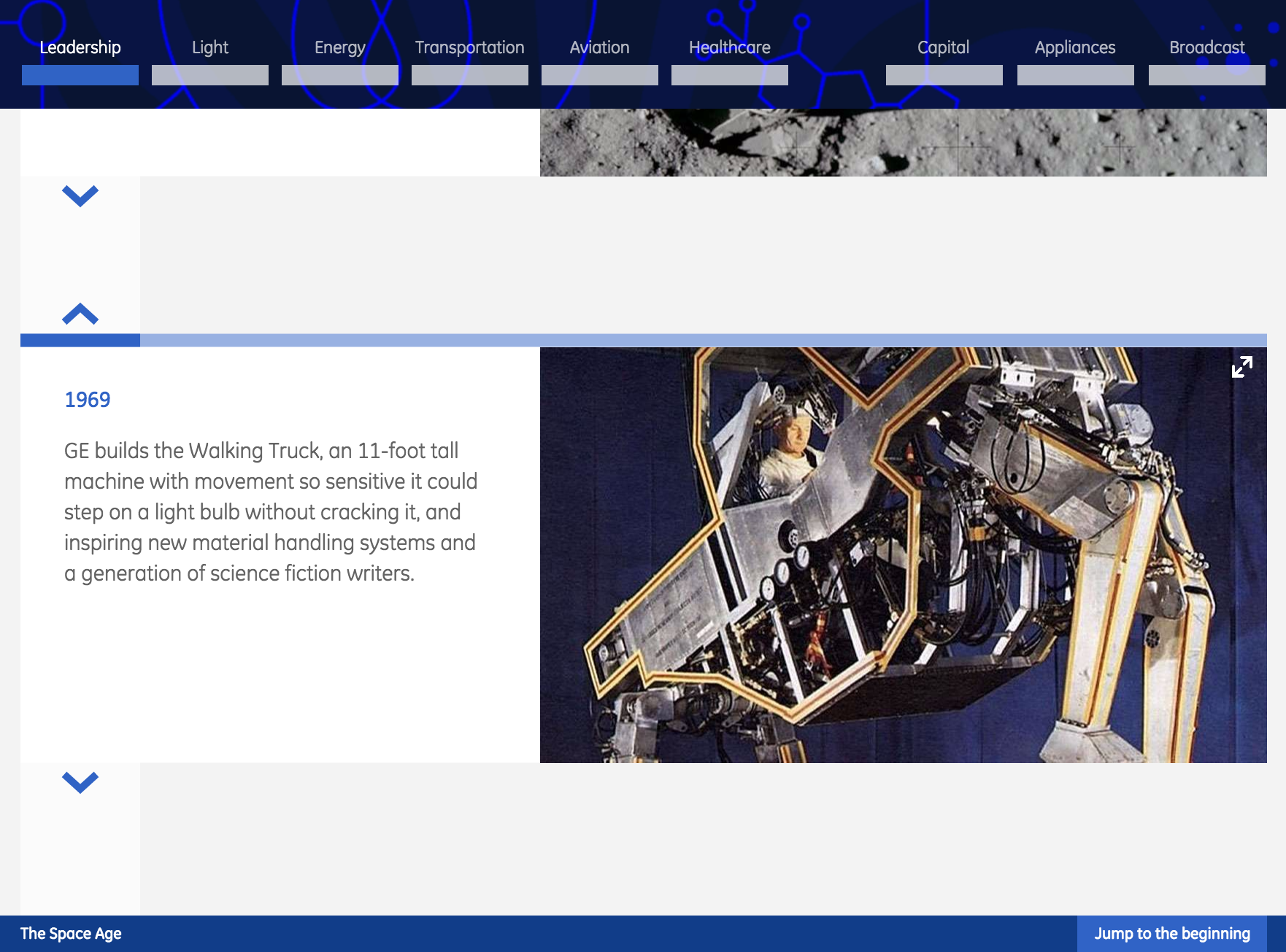 While they're most famous for their spinning things (gas turbines, wind turbines and airplane engines), they have produced a lot of strange and experimental technologies throughout their history. One example is the Walking Truck, a machine created in 1969 to facilitate navigating rough terrain. The project ultimately failed, but it has inspired countless sci-fi cousins.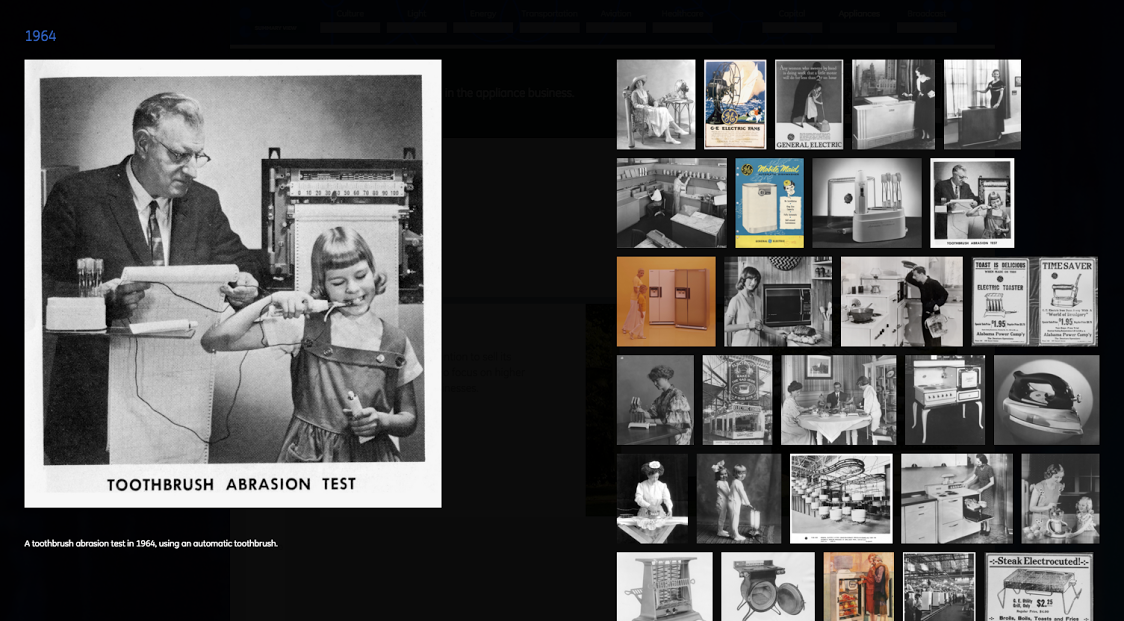 For some of the older consumer businesses, there are a lot of amazing advertisements and photography. We wanted to make sure that those materials, which GE has been known for in the past, were included in the timeline as well. For Appliances and Broadcast, we added a gallery view of historical images, which included things like ads for pink GE refrigerators and photographs of the first toaster ever!
Overall it was a pretty amazing project and there are lots of goodies hidden throughout the timeline. Check it out for yourself at ge.com/transformation!